Working out and Marijuana? Despite what you may think, smoking weed before workout can be a pleasure and give you the added push needed to knock out your gym routine. The key is knowing which strain is right for which workout and the best method of intake. GreenMed recommends these strains and methods before your favorite workouts.
Best Strains for Each Different Workout! 

CARDIO:
For cardio, you don't want too much of heavy smoke sitting in your lungs. You also don't want to be bogged down by that common fatigue associated with most indica dominant strains. The best weed for smoking before this workout, or any sort of Cardio routine: a Sativa THC oil pen will do the trick! Most dispensaries have multiple varieties of sativas strains all pre-packaged and ready to hit, some come flavored as well for those who enjoy an added sweetness.
GreenMed recommends Pineapple Express, Tangie Sap, Space Queen, Jack Herer. YOGA:
Yoga in itself is a calming workout, which requires a calming herb to accompany it. For your next yoga session a nice sativa, such as a blue dream or green crack. Smoking this weed before your workout keeps you elevated and calm, albeit not too drowsy. Since yoga is less strenuous than the others, ingest your weed of choice in your preferred fashion as yoga doesn't require as much physical exertion as some of the other workouts on our list.
GreenMed recommends: Blue Dream, Green Crack, Jack Herer, XJ-13.
WEIGHT TRAINING:
When it comes to weight training you can afford to be a little more relaxed. When smoking weed before workout of lifting, try a nice sativa-dominant hybrid and use a herbal vaporizer to give you that nice warm feeling but little of the lethargy and weakness that comes from bongs or pipes.
GreenMed recommends: Gorilla Glue, Hawaiian Express, AK-47, Blue Cookies.

PILATES:
Since pilates is a little more intensive in cardio than yoga maybe going with the THC oil pen, just like with cardio, will do well with your lungs. Unlike cardio, pilates is a steadier paced workout, which means you may want to try a hybrid such as Sour Diesel or Chemdawg. This should give you a calm feeling without making you too drowsy when smoking weed before workout of pilates. Also, these weed strains keep your body light and flexible!
GreenMed recommends: Girl Scout Cookies, Gorilla Glue, Strawberry Sherbet.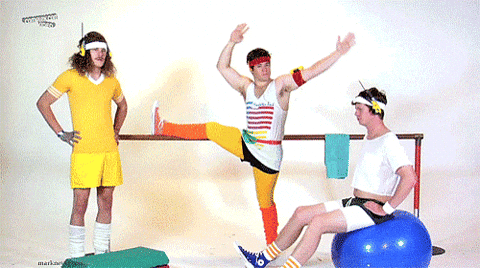 Don't Forget To Cool Down!
Smoking weed after a workout is important as well. Try an indica heavy strain to smoke. A native strain won't give you the relaxing body high that indica strains will. The indica will completely relax your muscles. An edible will give your high that extra kick to really help you get through the pain.
GreenMed recommends: Skywalker OG, King Louie, Sapphire Kush, Diamond OG, Jellyfish — the CBD dominant strain!
Conclusion
Weed and exercise do go together! Smoking weed before working out can be beneficial when you utilize the best weed strains for exercise. Now you're ready to enjoy a relaxing marijuana workout. Remember, Sativa dominant strains are going to be the best strains for before your workouts. Make sure to go easy on your lungs by utilizing weed vape pens. Smoke or eat Indica dominant and CBD weed after workouts to relax your muscles and get you through any soreness. 
Find these weed strains more at GreenMed — Cannabis Simplified!
WARNING!

None of the authors, administrators, or anyone connected with GreenMed, in any way, can be responsible for your use of the information within links or directly from these web pages.
Laws regarding recreational marijuana are constantly changing! Always consult your local authorities or attorney for professional advice!